New feature: Emailing into Google Drive
7 Mar, 2013
posted by: admin
Today, we launched a new feature that lets you get stuff into your Google Drive by sending emails to your personal DAV-pocket email address. At this time, this feature is experimental.

How it works
First, create your DAV-pocket incoming email address in the Email Setting section of your User Settings page.
Next, try emailing something into DAV-pocket. Pick some files and attach them to your email. In the subject line of the email, write the title as you want (At this time, it is not necessarily needed). In the same subject line, you can add an @ symbol followed by the name of your destination folder.
For example,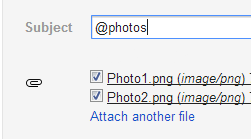 Subject: @photos
Attachment Files: Photo1.png, Photo2.png
Would create two files 'Photo1.png' and 'Photo2.png' in 'photos' folder in your Google Drive. Note that this functionality only works for existing folder which is placed in the 'root' folder.
If you want to get the files into the 'root' folder, send the email with blank subject.
Resetting your email address
Your DAV-pocket incoming email is randomly generated to protect you from spam. If you ever want to change it to another random address, click 'Reset incoming email' in the Email Setting section of User Settings page.